2009: In Review
From a clumsy teen who used Windows, to a sensible adult who makes wonders happen with OS X, my recent history has been particularly interesting. Join me as I reminisce about the past decade and take a look at what the future holds.
My head is filled with fond memories of the millennium's first decade, mainly because I was a young whippersnapper of just 13 when it started. One of the most important things to happen in those years was the discovery of my passion for web design and development. In 10 years I've transformed from a blithering, spotty teenage novice to a competent and knowledgeable adult; from knowing absolutely nothing about HTML and design to knowing HTML, CSS, JavaScript, ActionScript, amongst countless other languages and theory. Let's just say the naughties have been kind to me; through hard work mainly, but also through a couple of fortunate and timely opportunities.
The most awesome year by far
2009 in particular has been memorable for many reasons, most notably for the sheer amount of new stuff that now clutters the inner realms of my cranium. University took up most of my life during the year and the rest of the time was spent slaving away on the new version of Rawkes, working for the lovely people at Redweb, experimenting with canvas, being interviewed… twice, uncovering the world of Arduino electronics, and measuring how festive the world was during Christmas.
Here's just a glimpse of some of my most profound achievements of 2009: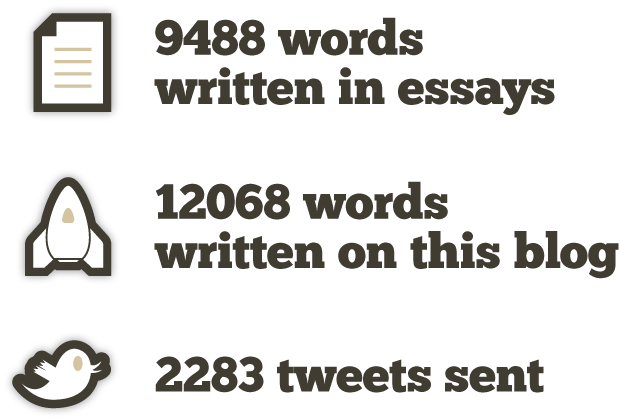 Plans for twenty ten
The last decade was good and, if I've anything to do with it, the next decade will be even better. It's still early days for me, especially considering I'm still in education and not settled into a career path yet. The next 10 years will bring graduation, hopefully, a serious career choice, possibly even fame? Actually, fame can go find someone else—I like my relatively private life.
However, none of this will happen if don't knuckle down and keep at it. I'm not getting any younger! With that in mind I've put together a wish-list of sorts for what I'd like to achieve in 2010:
Release 5 open-source projects
Write 2 decent guest posts for other blogs
Produce an iPhone application
Make something big with Arduino
Write 5 articles relating to interesting media theory
Choose something profound for my third-year major project
Tackle a fascinating topic for my dissertation
Learn and actually use Git properly
We'll see how they all pan out this time next year. I'm quietly confident that I can achieve everything on the list if I keep at it.
I'm looking forward to what the future holds, both for me and for technology and the internet as a whole. We live in exciting times with surprises around every corner. I can't wait!
---