The first HTML5 canvas hack night
This time last week the first ever HTML5 canvas hack night took place in Bournemouth. It was organised by myself with support from Microsoft and went down pretty well. In this post I give an overview of the event and an insight into what to expect next.
This time last week the first ever HTML5 canvas hack night took place in Bournemouth, a haven for geeks on the South coast of England. Organised by myself, with support from Microsoft, the event spanned an entire evening and involved a talk introducing the wonders of canvas, followed by an in-depth workshop teaching the attendees how to actually use this new feature of HTML5.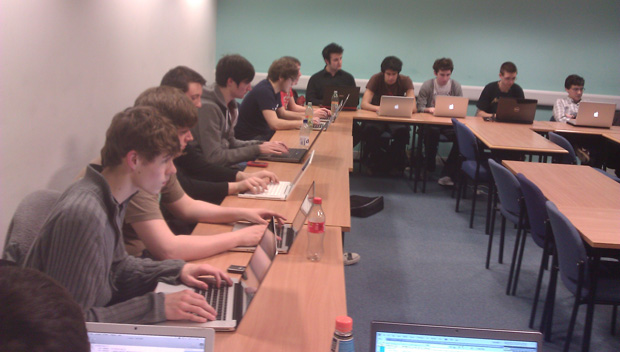 The hack night was open to all people, from absolute beginners, all the way to professional Web designers who just wanted to come along and see what all the fuss was about. In the end there were a nice selection of students and freelancers, with a special guest from Microsoft.
Considering the evening was over-booked and everyone actually turned up, I'm inclined to say it was a success. Admittedly I was a bit nervous (read: crapping myself more like), but the feedback from the attendees was fantastic. I've now got plenty of things to improve on for the next event to make it even better. There's not date just yet, but I imagine the next one will be on sometime in January or February next year. My hope is that I'll be able to take a back seat and listen to others talk about canvas and new Web technologies.
I'd like to say thanks to Ben Nunney (@bennuk) and Martin Beeby (@thebeebs) from Microsoft for having the faith to support the hack night and provide everyone with free pizza. Without you guys I would have had a whole bunch of hungry geeks on my hands and I don't dare think about how that would've turned out!
Feedback from Microsoft
Having been to a few 'hack nights' before I was pretty certain that I could expect lots of people and lots of laptops – but what really made #bmthhack awesome was the combination of talk, workshop, and general help, discussion and banter that went on throughout the evening.
Feedback from some of the attendees
[…] the success of this hack night can be measured very simply through the fact that after being in University for no less than 4 hours sat behind various laptops, every single attendee was adamant to stay on longer and learn more about this genuinely intriguing and exciting field.
One thing which I picked up from Rob is the fact he wasn't trying to sell us canvas, but simply told it as it was and why he sees so much potential in it.
Inspiring, informative and an excellent look at an alternative Internet technology. With free pizza...

Dominic White — @KirisuteRanza
Expected to be blown away be tonnes of complex code as a new JavaScript pogrammer, but really inspired me to start :)

Matt Crouch — @stupler
Slides from the canvas talk
The slides from the talk are embedded below and I encourage you to check them out. HTML5 canvas is an absolutely fantastic addition to the Web and you'd be stupid not to learn about it.
You can't trust geeks
I'll leave you with this evidence of some underhand pizza-related shenanigans going on at the hack night, captured by Jon Ginn.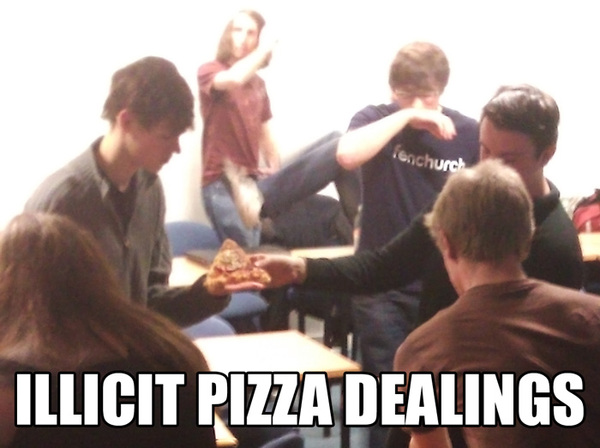 ---